Morgan Marine - The Ultimate in Composite Construction
With over 56 years in the industry, Morgan Marine is a world leader in the design, manufacture and installation of glass reinforced plastic (GRP) enclosures, cabinets and covers.

Our range of LPCB certified security products include both steel and GRP buildings, doorsets, window barsets, cages and access covers. Our 11 acre South Wales manufacturing site allows us to cater for contracts of any size, providing utility and construction sectors across the world with competitively priced market-leading security solutions. Our diverse products range include GRP enclosures and kiosks, steel enclosures and kiosks, these are not limited to set sizes and we are able to design the product to meet specific individual requirements, different composites are utilised to achieve Insulation, fire ratings and acoustic requirements.

GRP is non-corrosive and can be chemically resistant when made with certain resins, making it a suitable material for chemical dosing and other applications in the water industry. The range includes GRP roadside cabinets, GRP transformer housings, GRP and Steel gatehouses, and the widest range LPCB security products available in today's market place.

Our standard range of GRP cabinets are available for quick and convenient purchase on our online shop. Our products are typically used for MCC panel enclosures, switchgear and plant rooms, control equipment enclosures, transformer enclosures, pump kiosks, ticket booths, gatehouses and security lodges, electrical feeder pillars, and welfare and mess rooms.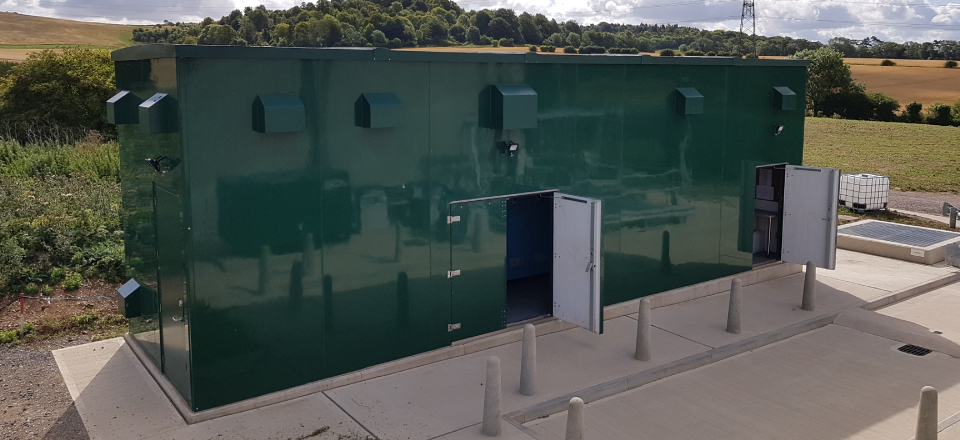 LPCB Certified Products
Morgan Marine is the UK's leading designer, manufacturer and installer of enclosures and doorsets certified by the Loss Prevention Certification Board (LPCB). We were the first company to achieve LPCB approval on a GRP construction and today are certified to LPS 1175: Issue 8 on our range of Titan SR2, |SR3 and SR4 security enclosures.

Our LPCB certified products are approved for use where security and protection of infrastructure is paramount. Our steel ranges Hercules, Taurus, Trojan and Centaur ranges cover enclosures, doorsets, barsets, cages louvres and access covers.

We also offer LPCB site inspection services, ensuring products under LPS 1175 continue to meet the required security rating.

We also offer extensive site services to ensure your steel and GRP projects are fitted on-site to the highest professional standard. Our experienced, fully-trained and accredited installation teams are available for on-site assembly in the UK, Europe and further afield We are NICEIC electrical contractors, which means we can offer clients full electrical fit out as part of our site installation services.